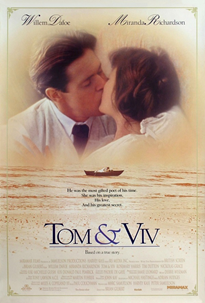 GB / US
1994
2hrs 05mins
Dir: Brian Gilbert
Starring: Willem Dafoe and Miranda Richardson
The story of American poet T.S. Eliot's marriage to Vivienne Haigh-Wood, and of her mental health problems

This historical biography is based on the 1984 play of the same name by British playwright Michael Hastings. It features a couple of brief and rather pointless railway shots. The first is a distant landscape view of the North Yorkshire Moors Railway with an approaching train obscured by foliage. Only the smoke is visible, and it is immediately followed by a very brief, close-up image from track level of a passing train filmed on the Bluebell Railway. The train is being hauled by ex-LSWR 0415 Class 4-4-2T No.488 in BR livery as No.30583. This is an excellent example of the apparent need for film directors to have a 'railway' in a film. They give the sense of a journey, taking the viewer from one location to the next, yet these two shots give nothing to the story, and the film would have been none the worse without them. It is, however, very good, despite being deeply tragic.