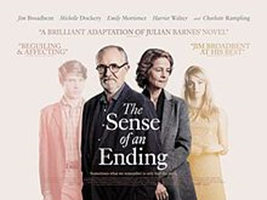 GB / US
2017
1hr 48mins
Dir: Ritesh Batra
Starring: Jim Broadbent and Charlotte Rampling
An elderly divorcé receives a sum of money in the will of his university girlfriend's mother. Confused, he tries to discover the reason for her gift.
This Anglo-American mystery drama is based on the 2011 Julian Barnes novel of the same name, but it is a poor spectacle overall. It features a sequence whereby Charlotte Rampling and Jim Broadbent take a ride on the London Underground and for once, continuity has been followed to perfection. Joining the Central Line at St. Paul's, the pair travel to Highgate on the Northern Line via a change at Bank. 1990s tube stock features throughout these scenes, along with the frontage to Highgate station.