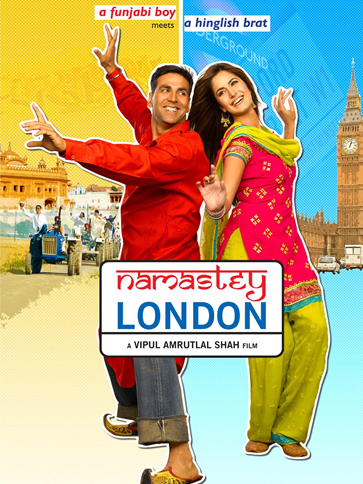 IND
2007
2hrs 08mins
Dir: Vipal Amrutlal Shah
Starring: Akshay Kumar and Katrina Kaif
A man takes his thoroughly-British daughter to India, where he arranges her marriage to someone she considers a fool. The daughter attempts to outwit them, but the groom quietly hatches his own plan.
The title of this Indian romance translates as 'Greetings London'. The opening titles feature a very fast and frenetic montage of London scenes and it is difficult to make much out. However, when the sequence is slowed down it reveals some interesting aerial views of London, and Waterloo, London Bridge, Cannon Street, and Charing Cross stations are all seen from the air. More notable is the shot of St. Paul's Bridge, Blackfriars, with a Thameslink Class 319 visible in the short-lived yet attractive blue and silver colour scheme. Later on in the film there is a short scene with Kumar and Kaif taking a train to the seaside. This includes scenes shot onboard a Class 377 'Electrostar' plus a brief sequence filmed at Brighton station, with other 377's in the platform.